Symposium of ideas and creativity
Creativities Unfold, one of Thailand's most anticipated international symposiums, is back with a curated ensemble of the world's most sought-after global visionaries in the business of creativity realm. The event was previously organized during 2006 - 2018 by the Thailand Creative & Design Center (TCDC), now elevated to CEA. Creativities Unfold 2023 brings together five leading international thinkers in the business and creative industry arena to present new facets of creativities under the theme, "VISIONAIRE: Reminisce/The Way Forward". 
During the past years, Artificial Intelligence (AI) has become one of the most important variables, playing a big part in bringing various changes to people's lives and the way we think, influencing our professional lives and how we live. AI also produces different levels of business and social impact, as well as those related to people's lives. Creativities Unfold 2023 will help us become better prepared and more ready than ever before to live in the fast-changing world of the 21st century as we look back and learn from past occurrences, raising greater awareness of the goings-on today in the present time. 
It is important to combine what we learned into new and interesting visions as we move forward into the future to build more sustainable and stable businesses. CEA invites you to join us on an exciting journey of creative businesses on 24 August 2023, from 10.00 - 16.30 hrs.  
Speakers Lineup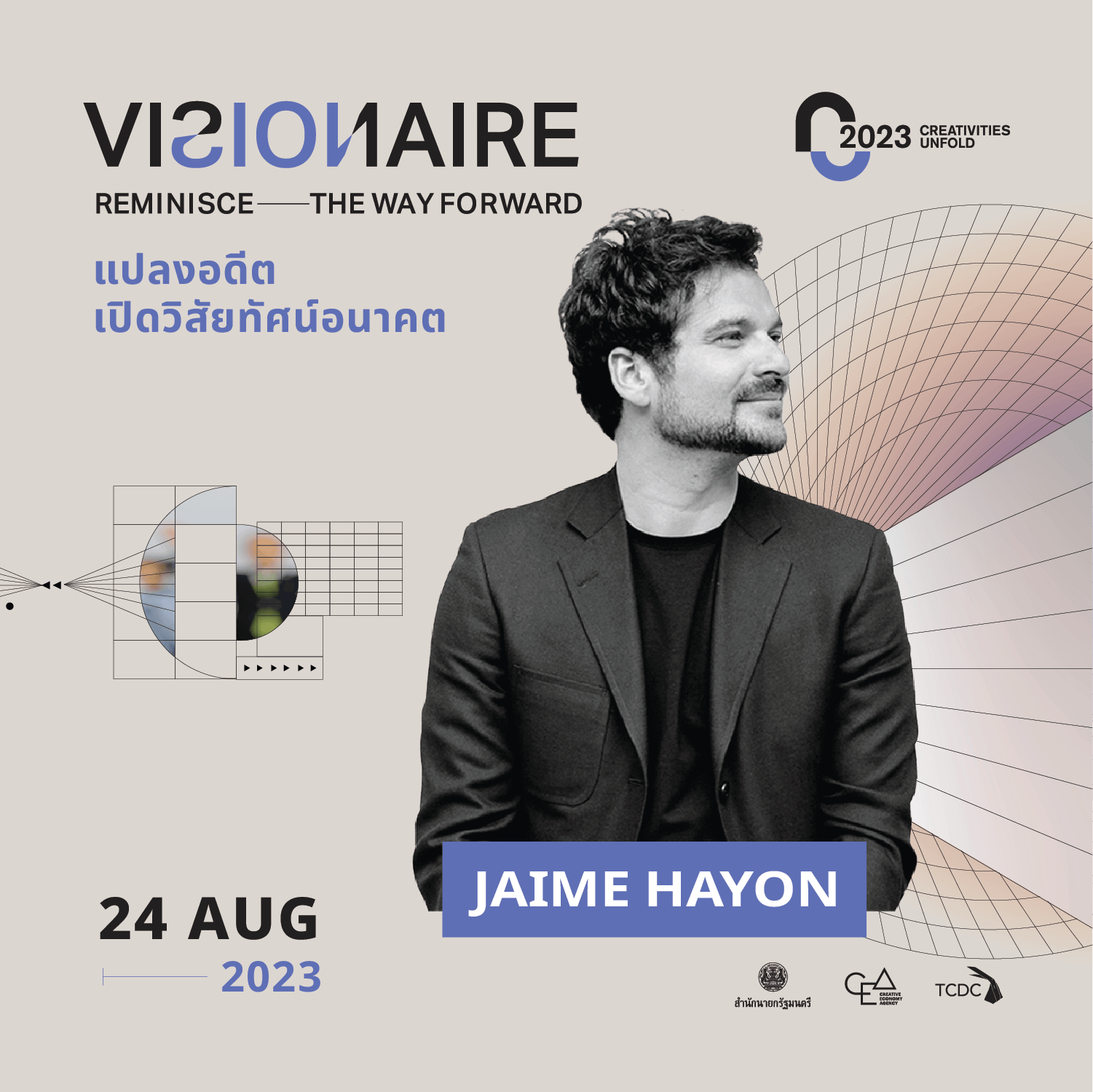 1. Jaime Hayon (Jaime Hayon Studio)
Jaime Hayon needs no introduction. One of the contemporary world's creative visionaries, the Spanish designer is known for transforming abstract ideas from everyday life activities into phenomenal projects. 
Topic: Design Follows Function, and Then What?
Time: 10.00 - 11.00 hrs.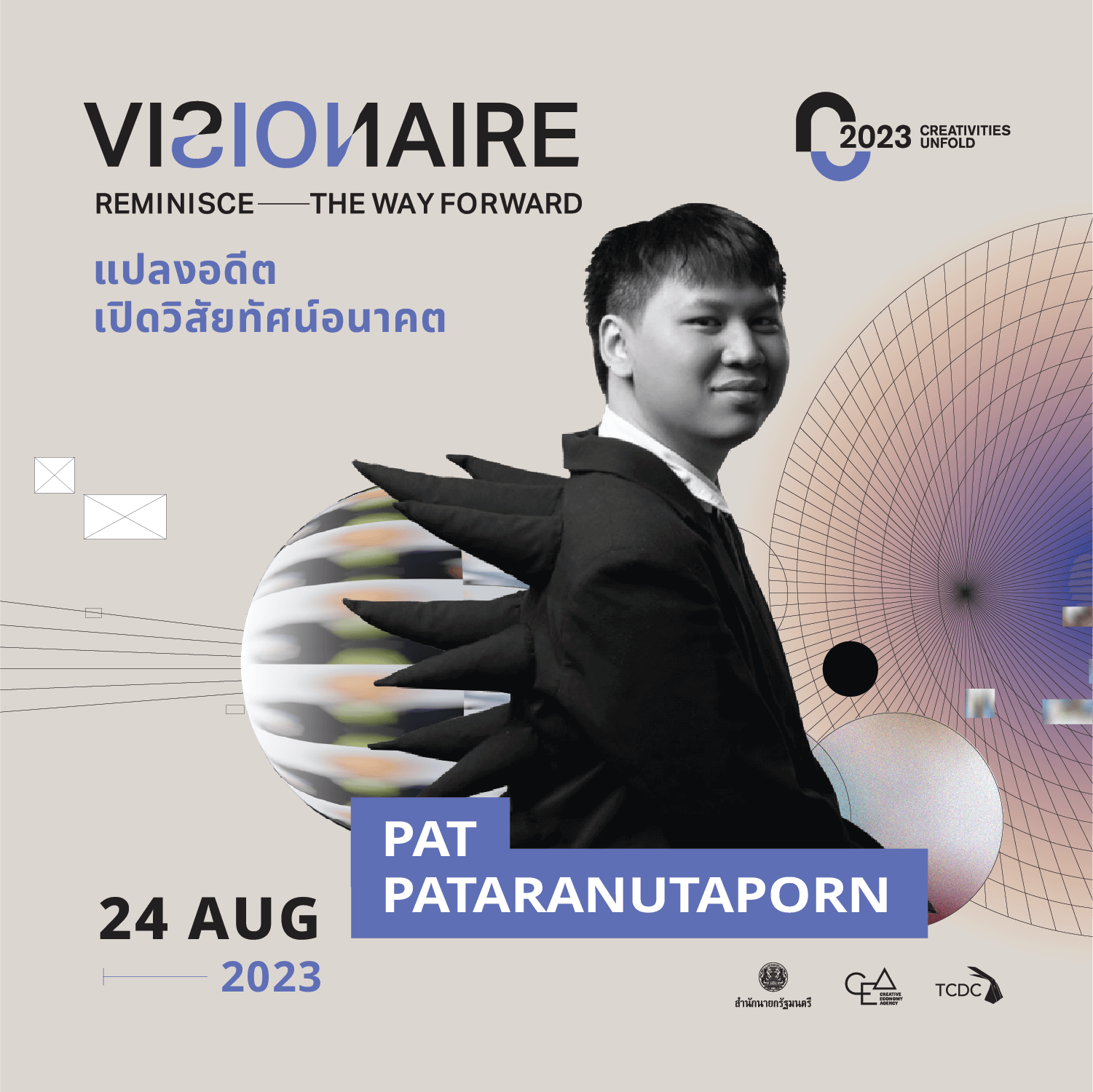 2. Pat Pataranutaporn (MIT Media Lab)
Technology researcher and developer from the Massachusetts Institute of Technology (MIT Media Lab) who has worked with NASA, NTT DATA, IBM, KBTG, UCSB, Stanford, Harvard, and Netflix, Pat is fascinated by the idea of creative collaboration between humans and AI.
Topic: Human + AI for the Future of Entertainment & Storytelling
Time: 11.00 - 12.00 hrs.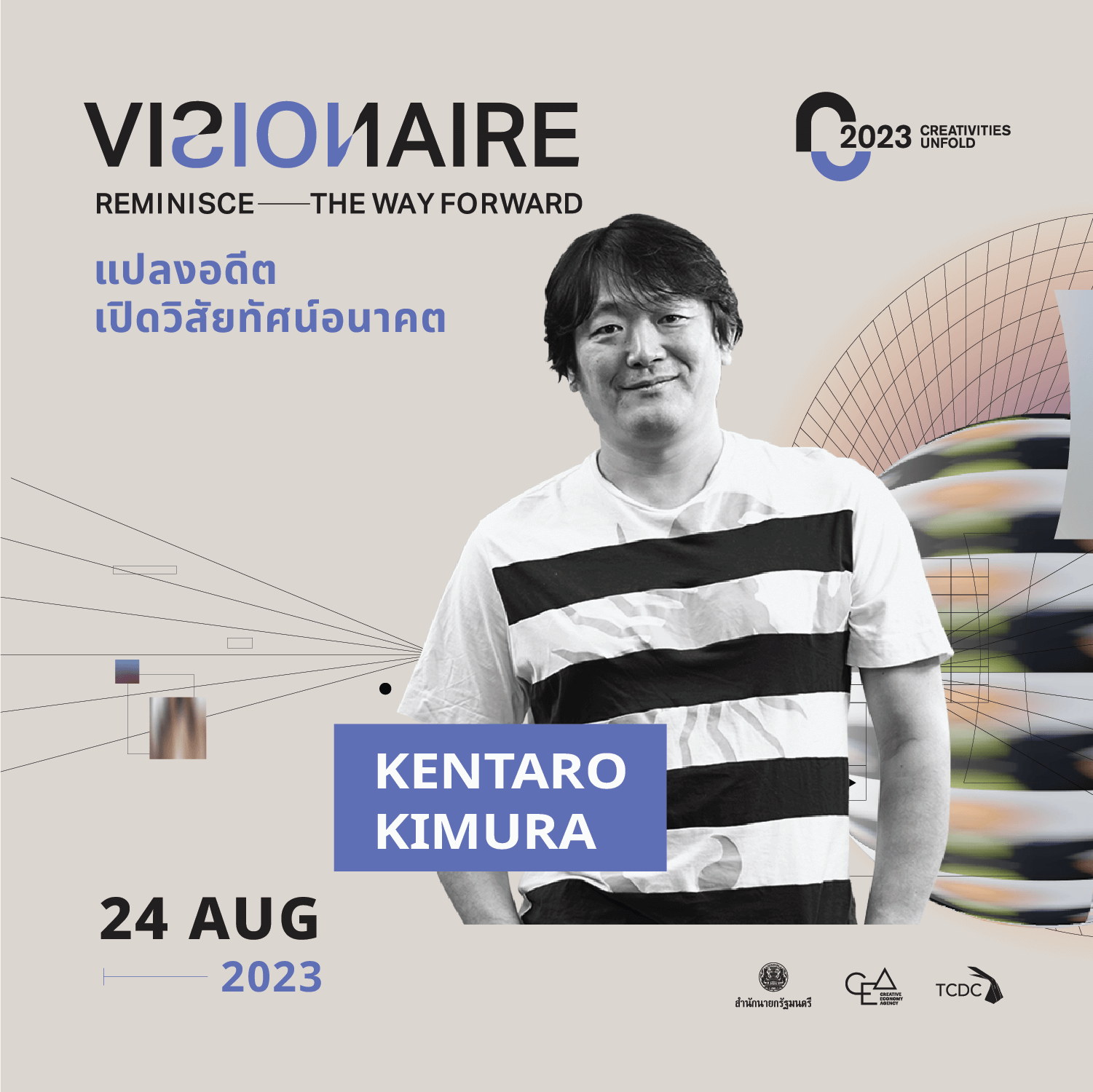 3. Kentaro Kimura (Hakuhodo)
Japanese creative visionary Kentaro Kimura is a household name in the advertising industry. An avid traveler who often brings back home new ideas to be transformed into sharp and phenomenal advertising strategies. He has won over 100 world-class awards and eight recognitions from the most coveted international platforms such as Cannes Lions, D&AD, One Show, Clio, ADFEST, AD STARS, and Spikes Asia – a proof of his unrivaled, boundary-pushing creativity. 
Topic: Unimagined Cultural Solutions: A Global Journey into the Future of Creativity 
Time: 13.00 - 14.00 hrs.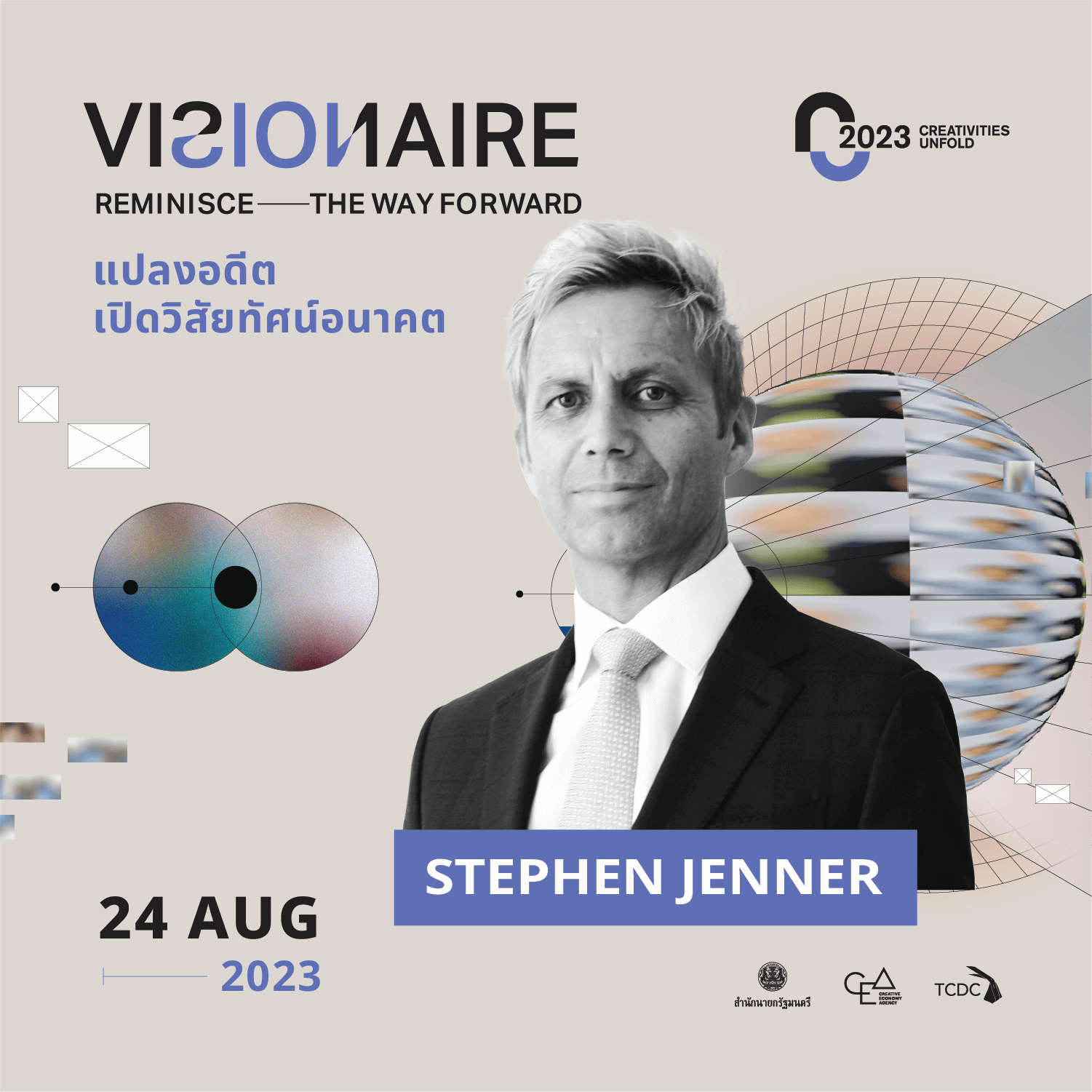 4. Stephen Jenner (Motion Picture Association)
Motion Picture Association's Vice President, Communications, Asia Pacific Region, Stephen Jenner is a mass communications expert and a revered advisor in the world film  industry and a thought-leader in creative media and film industry.
Topic: Mission Possible: The Rise & Rise of the Asia Pacific Screen Industry 
Time: 14.30 - 15.30 hrs.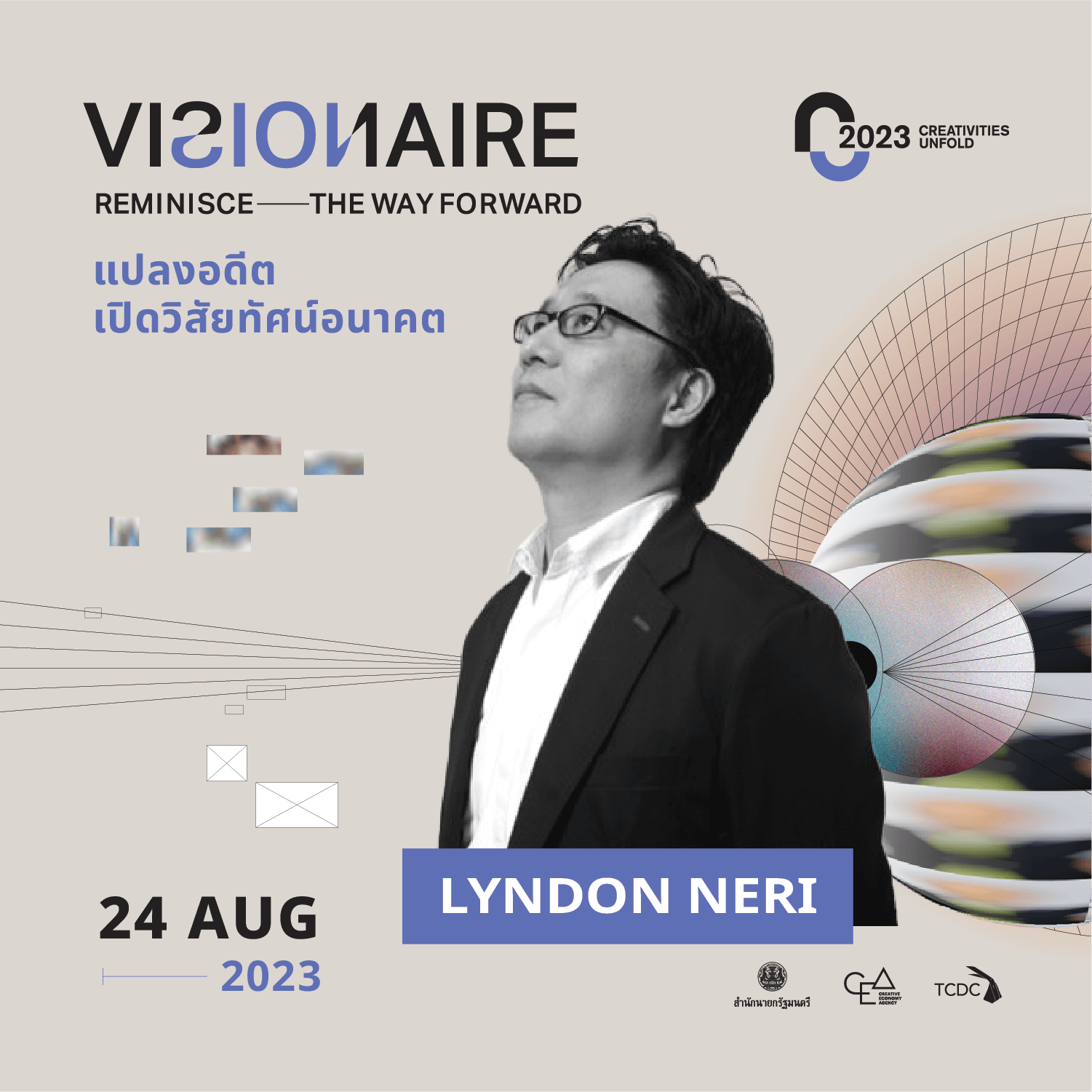 5. Lyndon Neri (Neri & Hu)
Asia's architectural marvel, Lyndon Neri, has graced the world with intriguing designs – a result of a thoughtful process derived from creative in-depth research to transform ideas into forms that don't just accommodate functions but also respect contextual references.
Topic: Liminality
Time: 15.30 -16.30 hrs. 
More information at: 
creativebusiness.cea.or.th
facebook.com/CreativitiesUnfold