Development of knowledge and prototypes of COVID-19 prevention and patient-assisted equipment
While the COVID-19 pandemic is still ongoing, yet the tools and equipment available are quite limited. Recognizing the need to develop the body of knowledge and prototypes of equipment for disease prevention and patient assistance due to the inadequacy of the resources, the Creative Economy Agency (Public Organization) teams up with FabCafe Bangkok, a maker organization capable of rapid modification, development, production, and prototyping of equipment.
With advice from physicians who will be the end-users, CEA representing the public sector partners with makers, engineers, designers, manufacturers, and other private-sector agencies to produce safe equipment with practical application that meets the standards of medical devices verified by several tests, the most important of which is certification from the Food and Drug Administration (FDA). This is a very important step in which every sector plays a role in mobilizing knowledge and applying creativity, technology, and innovation to prevent and alleviate the pandemic. The body of knowledge in producing prototypes will be disseminated for public use. 
Rapid prototyping process using a 3D printer
1. Assess needs and analyze problems to finalize a design brief
Problems are identified by considering the needs for application by medical staff. Data supporting a design brief is requested through social media platforms such as Line, Facebook, and Zoom from a team of doctors at Chulalongkorn Hospital, engineers, various specialists, and related personnel.
2. Set a design direction
Set a design direction that meets the design problems through social media platforms.
3. Produce a prototype with a 3D printer
Design and make a prototype with a 3D printer before sending it to be used by medical personnel or related agencies until the prototype is proven to work or endorsed by the medical team if it is medical equipment.
4.Test and trial the prototype 
Have the prototype trialed and tested by relevant personnel before launch. Advice must be sought from the medical team of doctors and nurses at Chulalongkorn Hospital or the CEA committee.
5. Summarize the work process and publish the CAD file of the prototype 
Gather all data and make a summary report of the development, design, and working processes. Disseminate the knowledge of producing the prototype equipment in CAD format as an open source for the public. 
Info & Download
Open Source: CAD files
SWAB shield
Aerosal box
UVC-decontamination
HEPA H-14
PAPR HEADSUIT
COVID BED
Outcomes
1. SWAB shield
SWAB SHIELD is a device that keeps healthcare professionals safe when collecting a specimen to examine the viral DNA in the nasal cavity and throat using RT-PCR (Reverse Transcription Polymerase Chain Reaction). While doing a swab, a patient may cough or sneeze triggered by a swab stick that irritates the respiratory system, putting healthcare personnel at risk of infection from the aerosols.
SWAB SHIELD was first developed by a nurse in China to cope with COVID-19. The team has been contacted by the Department of Surgery, Chulalongkorn University, regarding the development of the prototype.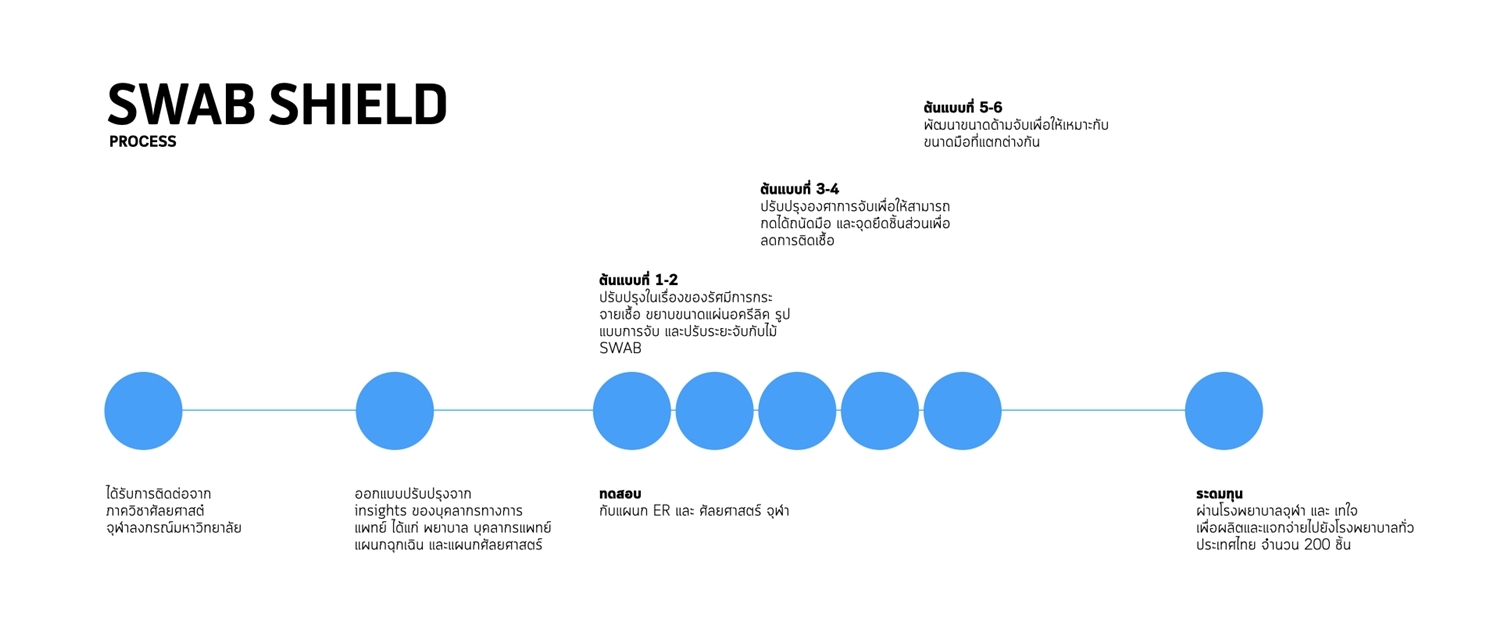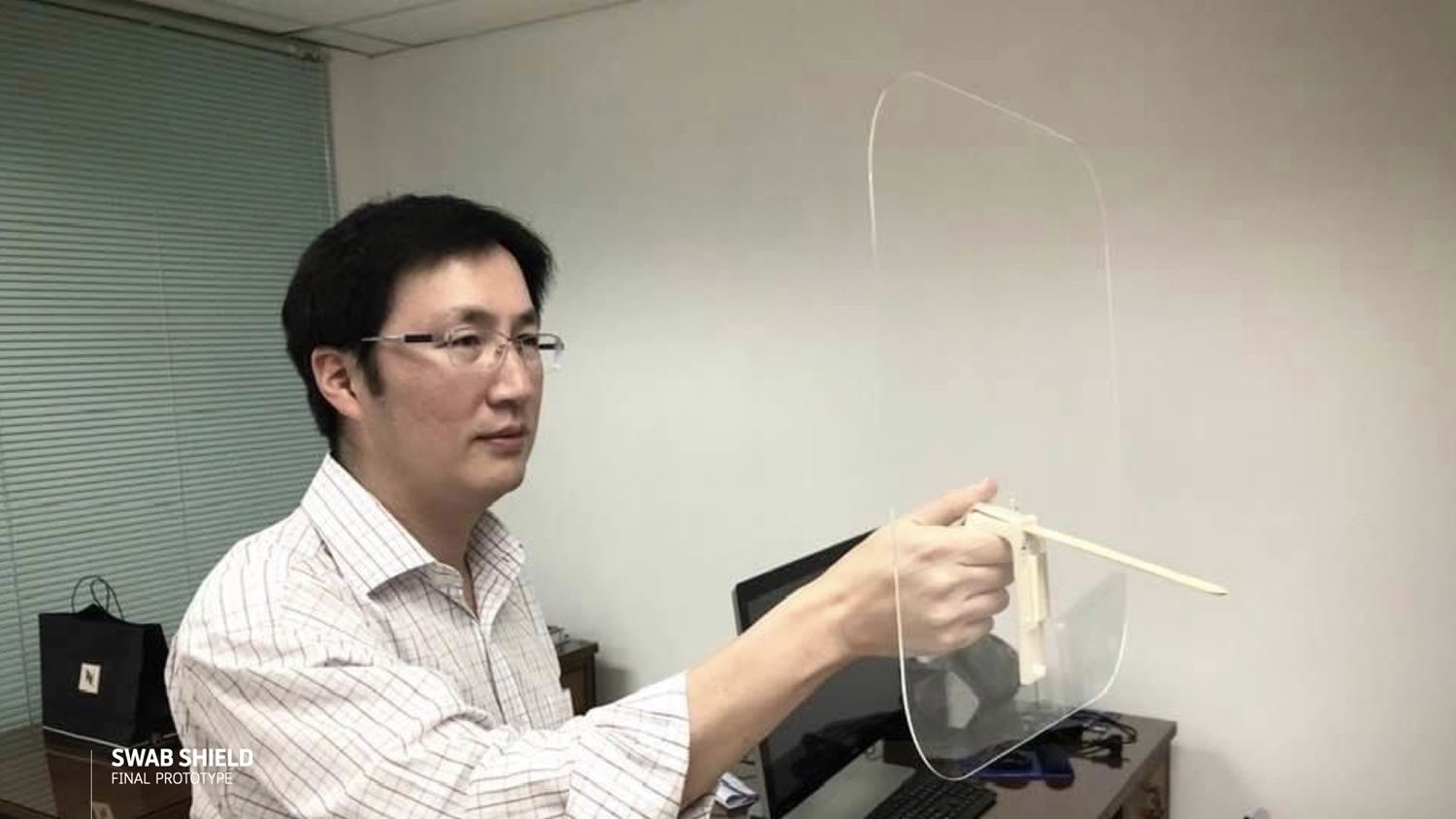 2. Aerosal box
AEROSAL BOX prevents infection for doctors while performing tracheal intubation on patients by reducing the risk of infection through droplets of secretions. The device is based on a bathtub model owned by Living Center Company Limited. AEROSAL BOX is produced by vacuum forming, making it possible to produce more than 20 devices per day. The technique, which reduces joints and areas where the virus may accumulate, proves to be a better choice than laser cutting technology, which is slower and requires a frame to be assembled.  
The material is changed from acrylic sanitary grade to extruded acrylic. The latter can be produced in a larger amount, lighter, and tougher than the sanitary grade, which reduces the chance of breakage. However, the material requires a minimum production amount of 250 sheets for one million baht, which can produce 500 sets of AEROSAL BOX. Living Center raised funds through taejai.com and received requests from more than 450 people for over 1,500 sets. Due to constraints in the material and production capacity, no more than 5 sets were produced per health facility. It took one month to produce and distribute 500 sets of AEROSAL BOX. Because of the material properties, soapy water is used to clean instead of alcohol.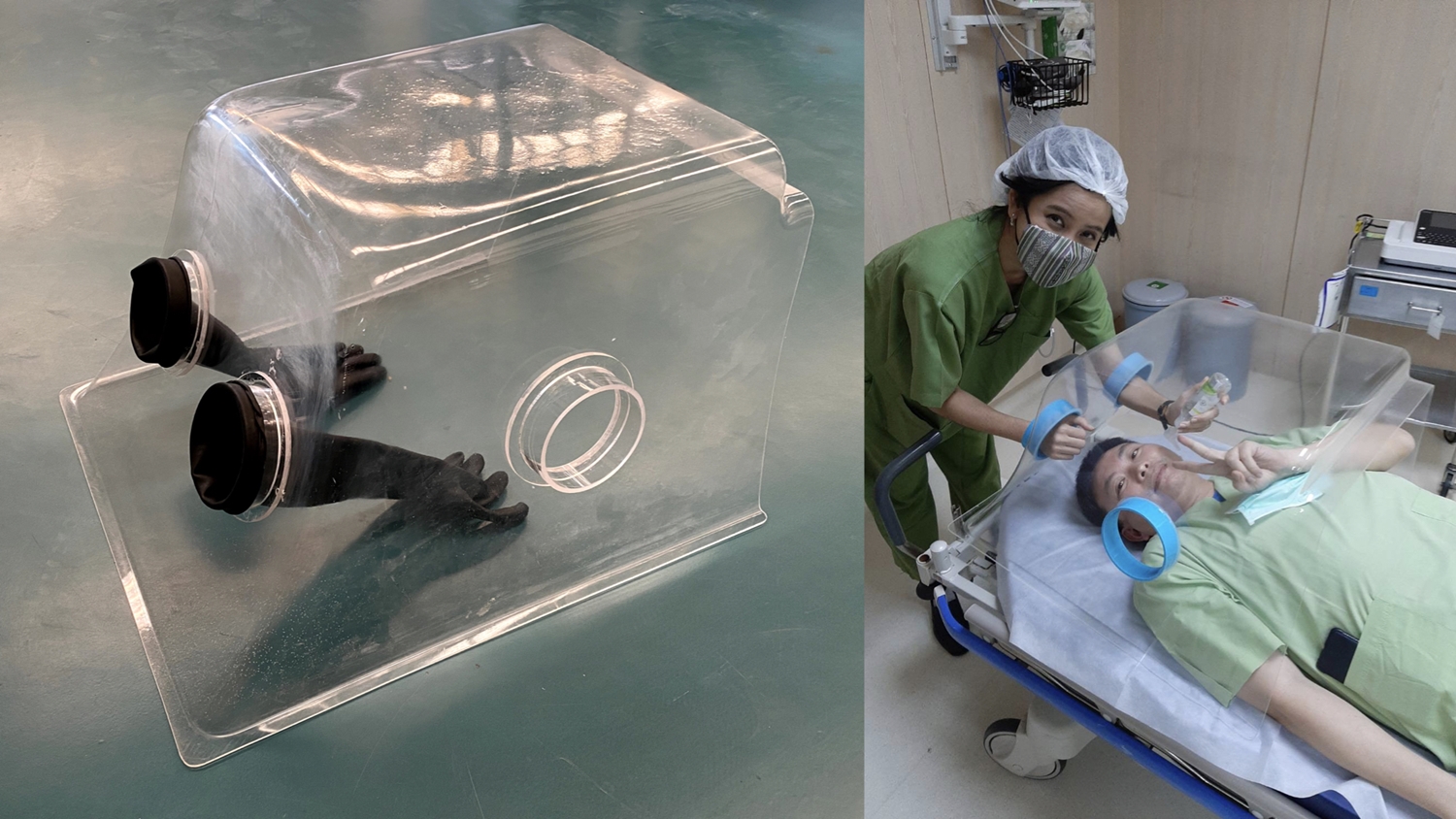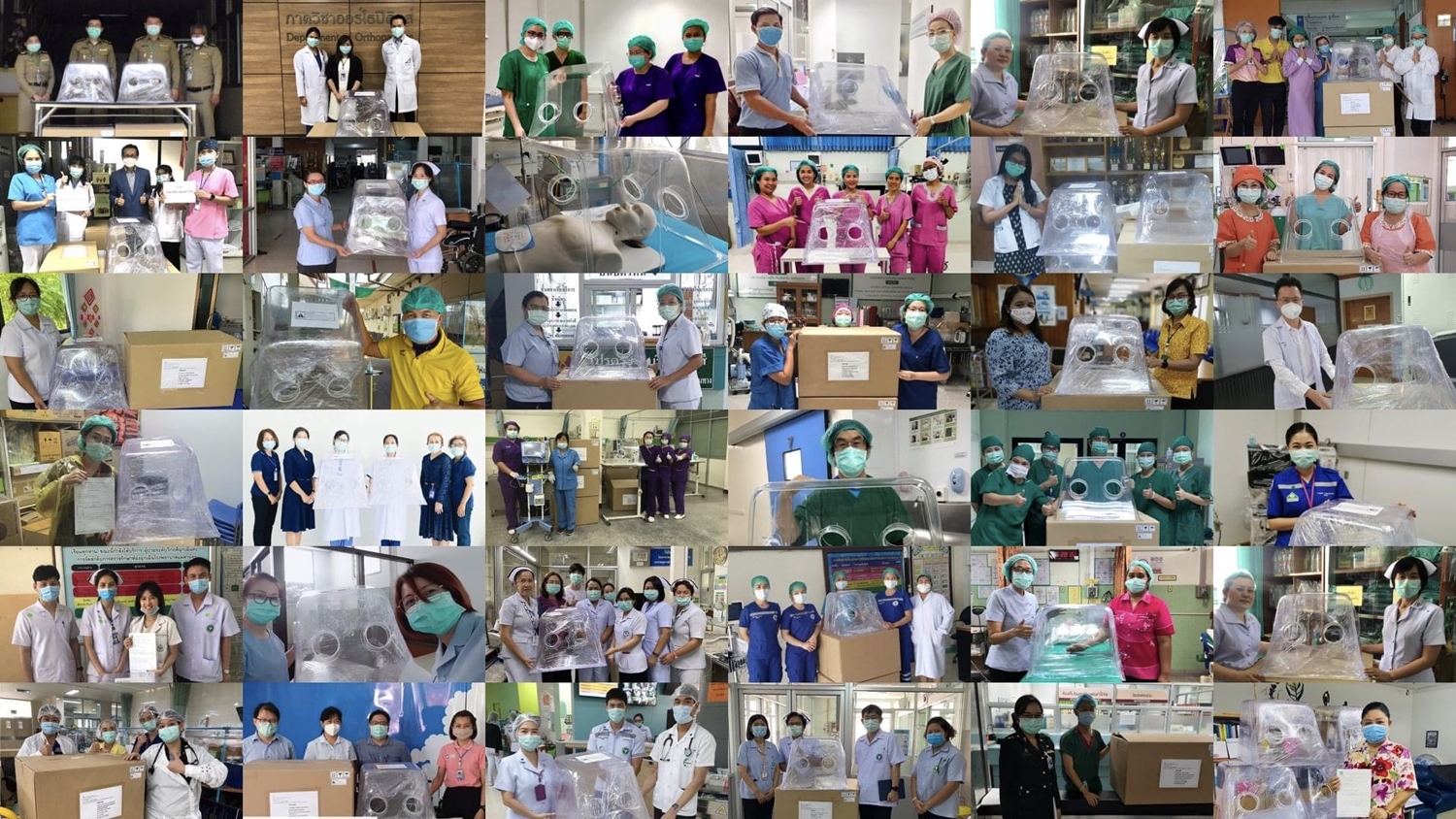 AEROSOL BOX 
www.living-center.co

3. UVC-decontamination
The critical shortage of N95 and surgical masks has led healthcare workers to reuse the masks after being decontaminated in such a way that the mask properties that protect against infections remain intact. There are four methods of sterilization:
1. Gamma radiation kills pathogens but also destroys the synthetic fibers of masks made of polypropylene (PP).
2. Ethylene oxide gassing kills pathogens but leaves carcinogenic residue and toxic gas in the mask.
3. Dry heat pasteurization is the easiest and safest method of sterilization for the general public. Dry heat at 65°C for 20-60 minutes will not change the fiber properties.
4. Ultraviolet C (UV-C) irradiation for over 30 minutes destroys pathogens and leaves no residue of pathogens accumulated in the mask. The fibers are not damaged to the point of losing efficiency. However, UV-C irradiation should be performed by a specialist as it can cause skin burn and skin cancer. If the eyes are exposed to UV-C, it can induce cataracts.
UVC-DECONTAMINATION is a UVC germicidal cabinet that is simple to make with materials that are available in general stores. The prototype is made from home appliances such as a plastic storage box used as a cabinet frame. The hook for hanging masks is made of an acrylic sheet using laser cutting or 3D printing.

4. HEPA H-14
HEPA H14 or high-efficiency particulate absorbing filter is used to purify the air by removing impure particles. HEPA H14 is medically used to filter particles and viruses that are 0.1 microns in size as it passes up only 0.005% of such particles per liter of air. HEPA H-14 is an HME (Heat and Moisture Exchanger) or Hygroscopic Condenser Humidifier (HCH) device that acts as an artificial nose of a patient breathing through a tube. The device contains a desiccant placed on the ET tube connector to absorb the moisture from an exhaled breath and release moisture to a dry inhaled breath to flow through the lungs of the patient.
HEPA H14 is pending certification by the Ministry of Public Health and the Food and Drug Administration.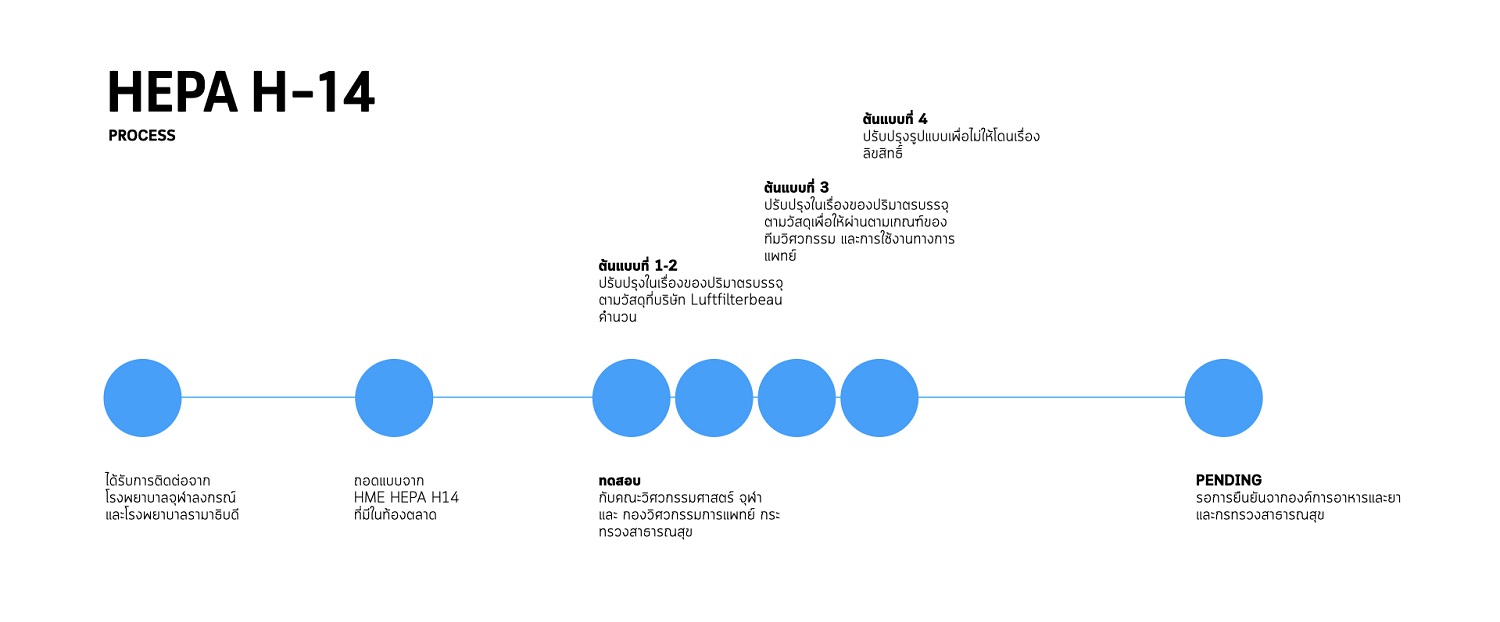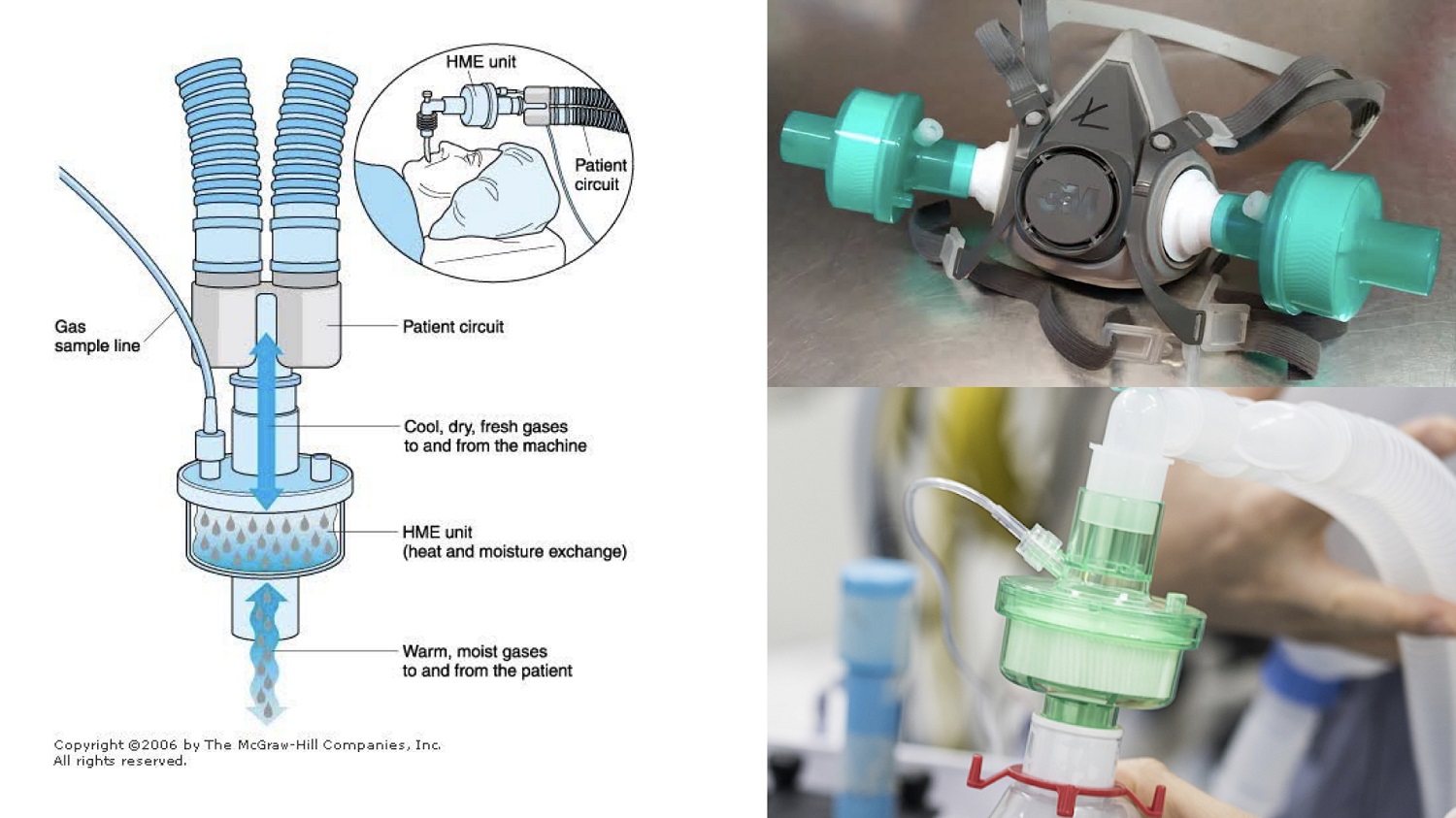 5. PAPR HEADSUIT
PAPR (Powered Air Purifying Respirator) releases pure air to the wearer. The respirator comes with a headgear, a fan, and a suit. It is one of the personal protective equipment for healthcare workers during the outbreak of respiratory diseases. It consists of 3 parts:
[1]  HEADGEAR
[2]  FILTRATION SYSTEM
[3]  POWER SOURCE

Since the Food and Drug Administration under the Ministry of Health has not yet allowed the general public to produce the filtration system and power source from opensource for safety reasons, the team, therefore, provides only the basic information of part [2] of the NIOSH standards that require a minimum airflow rate of loose-fitting PAPR at 170L /min and a maximal operation flow rate in 4-hour of continuous operation at up to 250 L/ min. PAPR is pending certification by the Ministry of Public Health and the Food and Drug Administration Board.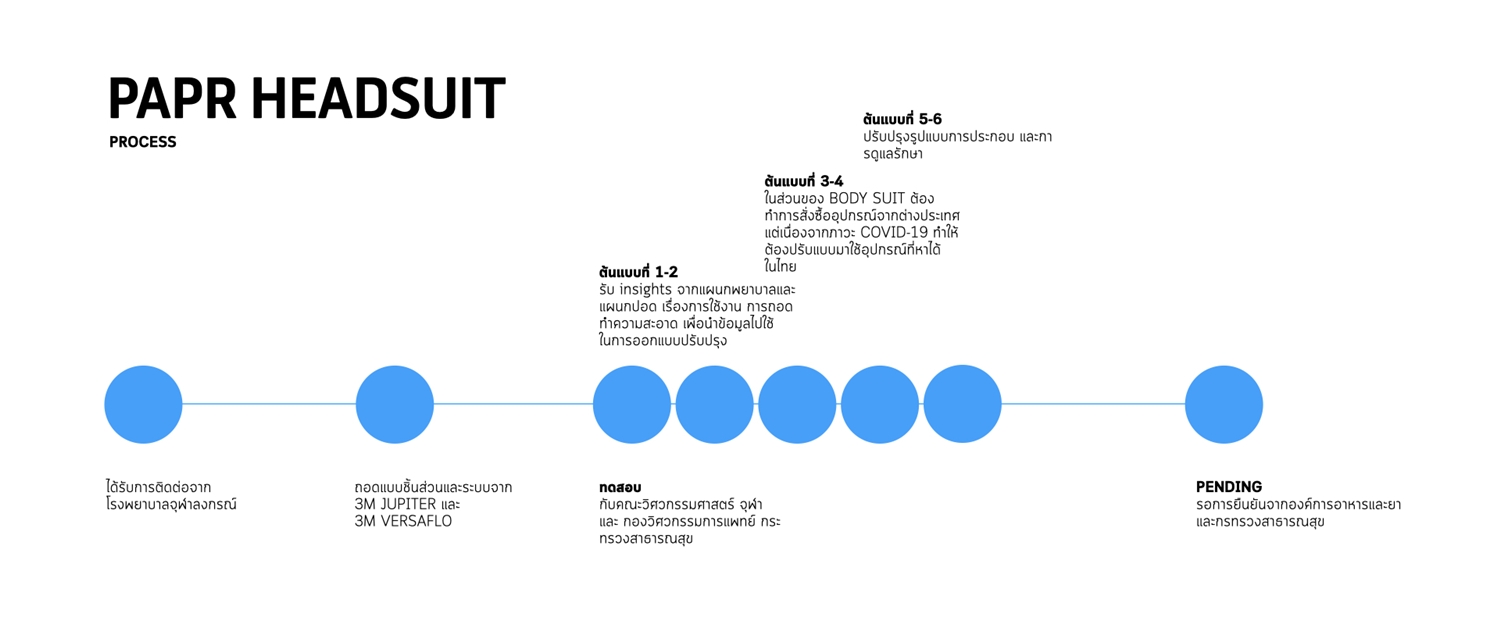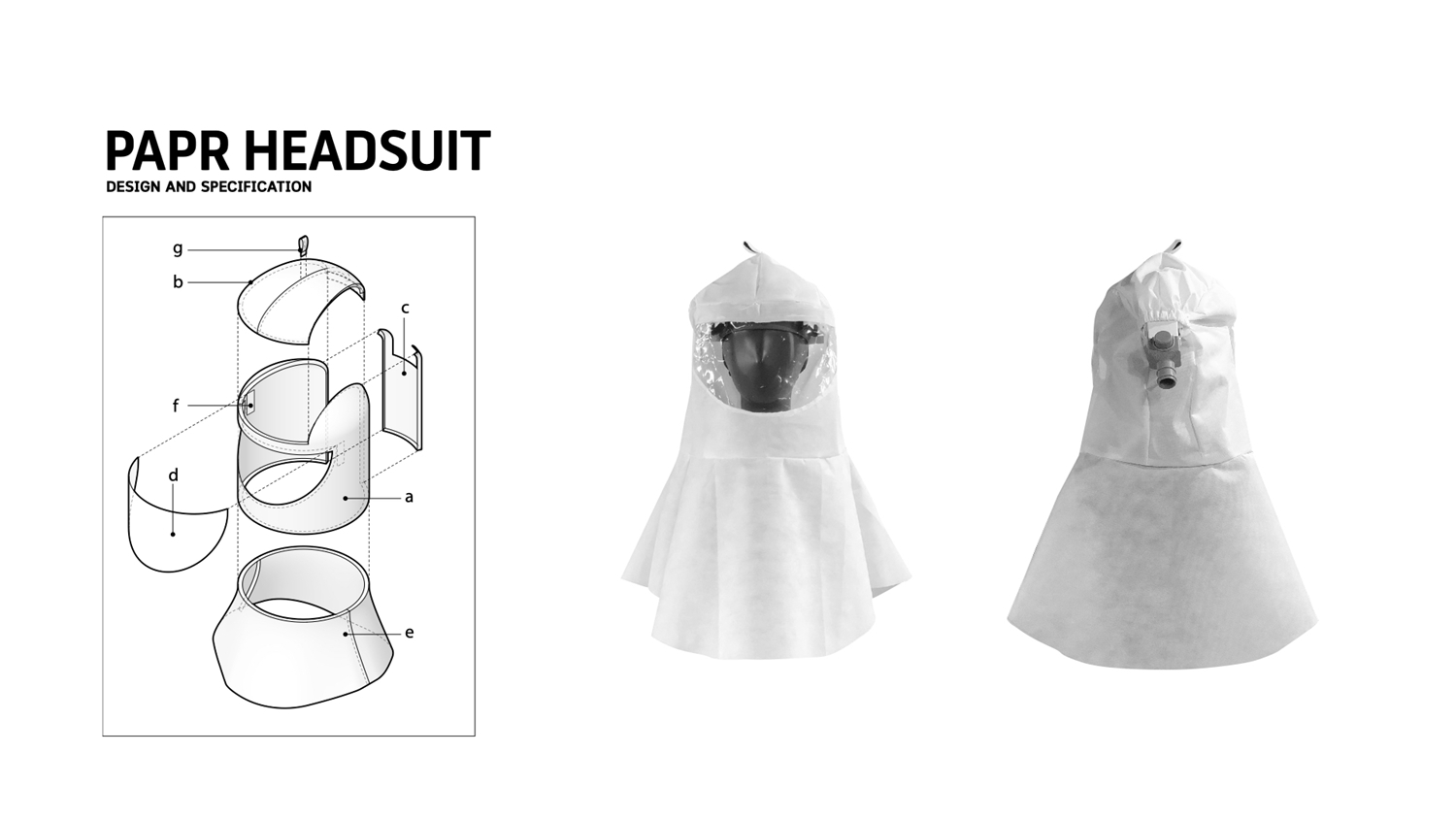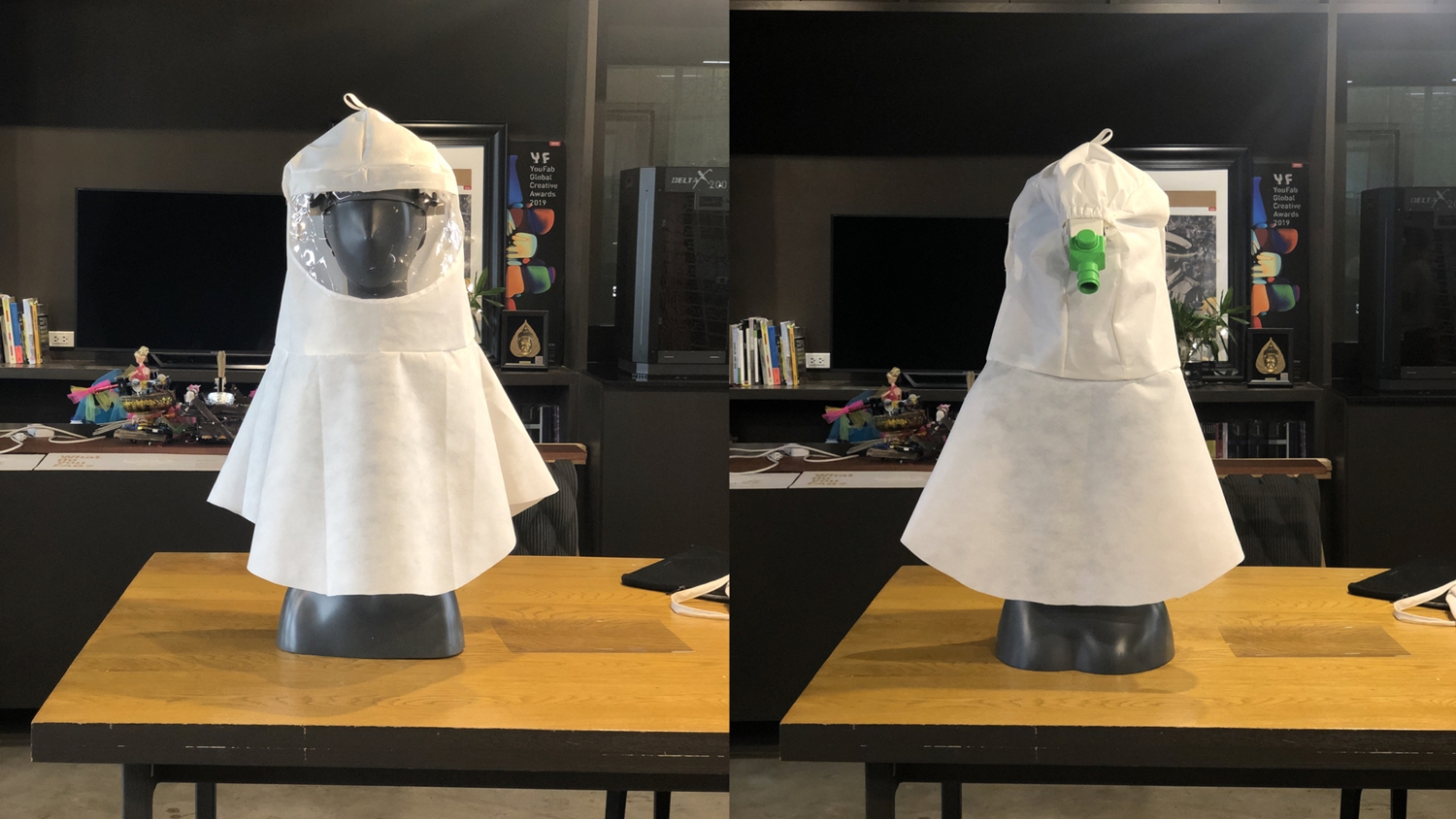 6. COVID BED
During the COVID-19 crisis, several agencies are planning to build a field hospital to accommodate patients in case hospitals are at maximum capacity. Construction company Tri Archy Co., Ltd. has developed an adjustable bed from construction material leftovers or abandoned scaffolds. The 1x2-meter bed frame is easy and quick to make and disassembled.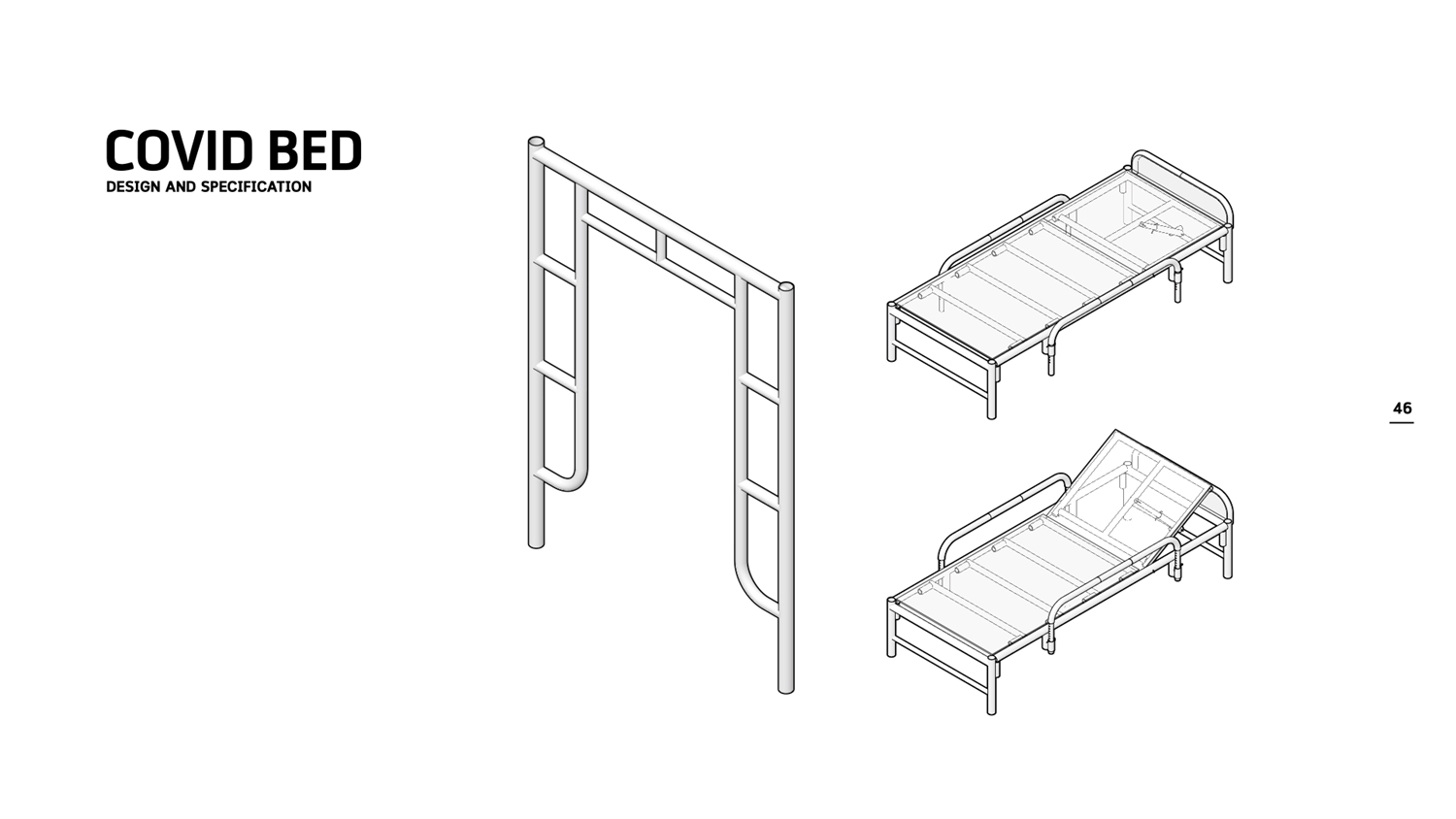 COVID BED 
www.triarchy.co.th