UNFOLDING BANGKOK-Living Old Building
Living Old Building, a retrospective of historical buildings
It is evident that the COVID-19 epidemic has had a significant impact on Thai tourism, ranging from measures to close the country to travel restrictions in several countries. Bangkok is one of the cities impacted, as this capital city is one of the world's most popular tourist destinations. And now that the situation has been relaxed, Bangkok is ready to welcome tourists again from November 2022 onwards and provides ample experiences of traveling to this charming city, Bangkok, which you may have never witnessed before.
Creative Economy Agency (Public Organization) or CEA, with the Tourism Authority of Thailand and the Thailand Convention and Exhibition Bureau (Public Organization), arrange the pilot event in Bangkok "UNFOLDING BANGKOK" under the three main themes: Hidden Temple, a secret temple tour; Living Old Building, a retrospective of historical buildings; and Greeting Benjakitti, a visit to the forest park in the middle of the city.
UNFOLDING BANGKOK is set to happen between November 2022-March 2023 to welcome tourists to various locations throughout Bangkok. The event is expected to showcase the alternative and creative dimensions of Thailand and Thai culture in a contemporary style. It will also stimulate the tourism sector with a variety of creative activities that create a new experience of traveling in Bangkok for both Thai and foreign tourists.
LIVING OLD BUILDING
Retracing history through heritage buildings in four Bangkok areas
4 February - 2 April 2023
Experience the allure of old structures that have stood the test of time. Trace the roots of the buildings and their surroundings that offer new experiences for Thai and foreign tourists in the historic neighborhoods. Bring the precious heritage buildings back to life through creative activities that complement their architectural styles, such as art installations, exhibitions, and guided tours. 
1. Maen Si Waterworks
4 - 12 February 2023 
The "Maen Si" intersection is named after Mom Maen, a Mom Ham (a common lady who is a wife of a royal family member) of Prince Bhanubandhu Vongsevoradej. In honor of his great love for her, when Mom Maen passed away, a grand ceremony was held and a new bridge was built over the canal on the side of Bamrung Muang Road to allow the procession to pass. The bridge was therefore named Maen Si, which has since been known as the Maen Si intersection.
Siam's first 'waterworks'
The Siam Waterworks was founded in 1909 and began operations in 1914. Before, the people of Phra Nakhon (Siam) would drink water from canals flowing from Phetchaburi Province, which they would store in a water jar. Following King Rama V's visit to Europe, His Majesty believed that clean, sanitary water should be available for public consumption in Bangkok. As a result, His Majesty assigned a water engineer from France to plan Bangkok's waterworks system, which opened for business in 1914. Water from the Chao Phraya River was diverted to tributary canals in Pathum Thani Province via the Bang Luang Canal, Chiang Rak Canal, Rangsit Canal, Bang Khen Canal, Prem Prachakorn Canal, and Samsen Canal. The water would be kept and treated at the Samsen Water Treatment Plant using the European approach to achieve sanitary water. The water would then be stored in a tank in Maen Si Sub-district before being distributed for public consumption throughout Bangkok.
Bring the 'waterworks' back to life with design
The Creative Economy Agency (Public Organization) or CEA, in collaboration with Urban Ally, revive the old waterworks by holding an architectural lighting exhibition named 32°F by FOS Design Studio, which is a lighting design from the water freezing point of 32 degrees Fahrenheit (°F) reflecting the idea of water ripples and global warming at Maen Si Waterworks during the Bangkok Design Week 2023 held from 4 - 12 February 2023 at 6.00 - 9.00 pm.
More information at 
www.urbanally.org

2. Master Sculpture Hall
4 - 12 February 2023
FOS Design Studio's 1985°F architectural lighting and color design captures the allure of old structures that have withstood the test of time. The color and lighting exhibition, which tells the history of the beginning of important monuments in Thailand inside the Master Sculpture Hall of the Fine Arts Department, where the sculpture works of Silpa Bhirasri and his students are kept and displayed, is part of the Bangkok Design Week 2023, which runs from 4 - 12 February 2023 at 6.00 - 9.00 pm.
The models of Thailand's significant monuments were carved at the "Master Sculpture Hall," Siam's first western-style sculpting workshop. Silpa Bhirasri sculpted, cast, and designed a number of works, including the First King of the Chakri Dynasty Monument, King Taksin the Great Monument, King Naresuan the Great Monument at Don Chedi, Thao Suranari Monument, and Democracy Monument. This is where they were first sculpted.
In addition to the models of the great monuments, the Master Sculpture Hall houses the models of other monuments such as a sculpted model of the statue of Prince Narisara Nuwattiwong who was hailed as the great craftsman of Siam. This is considered Silpa's first work and a demonstration of his talents which put him on the map among Thai government officials.
Text credit  
www.facebook.com
More information at 
www.urbanally.org
www.bangkokdesignweek.com/bkkdw2023/program/51939
www.facebook.com
3. Hua Lamphong Railway Station
18 - 26 March 2023
On 26 March 2023, the State Railway of Thailand will celebrate its 126th anniversary by shedding a charming new light on Hua Lamphong Railway Station. This classic train station used to be the juncture of passengers traveling to Bangkok from all around the country. Although traffic is confined to a few train lines, Hua Lamphong remains significant as a historical building, both in terms of architecture and the modernization of Thailand's transportation system.  
Hua Lamphong Railway Station's changing role provides an opportunity to experiment with transforming the train station into a site for architecture, learning, and pleasure. The Creative Economy Agency (Public Organization) or CEA collaborates with Lighting Designers Thailand to develop a lighting installation to tell a story and accentuate architectural beauty. Music performances are arranged to suit the notion of Hua Lamphong as a transport junction.
Three main activities of "Living Old Building" at Hua Lamphong Railway Station 
1. THE WALL 2023
by Lighting Designers Thailand and DecideKit
The lighting installation is divided into three sections, with the exhibition running from 7.00 - 10.00 pm. as follows
- First Scene: The Door
The curving glass at the station's entrance, a great visual landmark, is used as the starting point of the journey as you enter the inner area under the concept of The Door, representing the imagination of individuals about to embark on a new journey.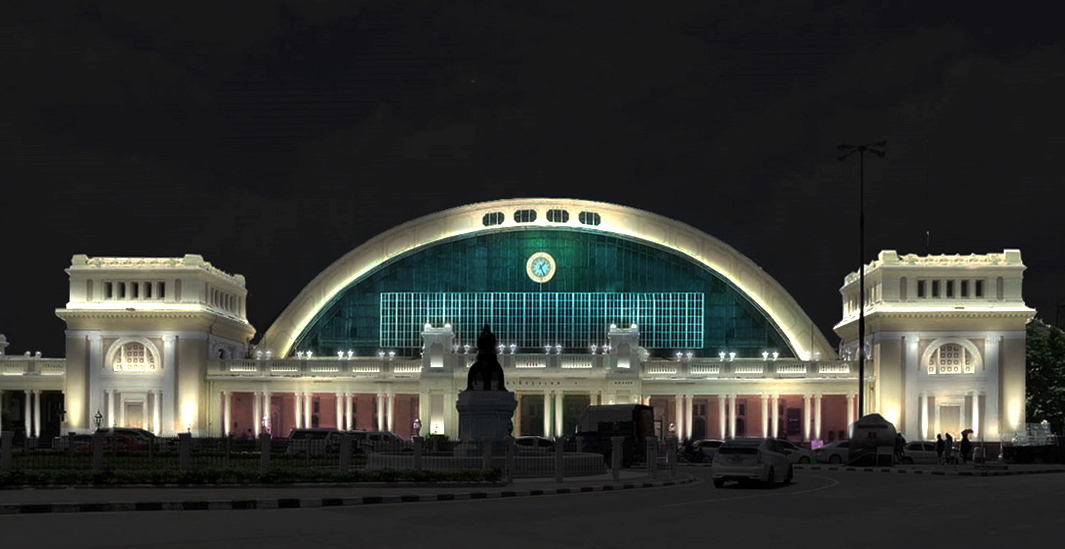 - Second Scene: The People
A modest passenger waiting space inside the train station hall is highlighted through lighting as an important area for "The People" to enjoy the charm of Hua Lamphong in a new light while watching a music performance and admiring the grandeur of this historic architecture.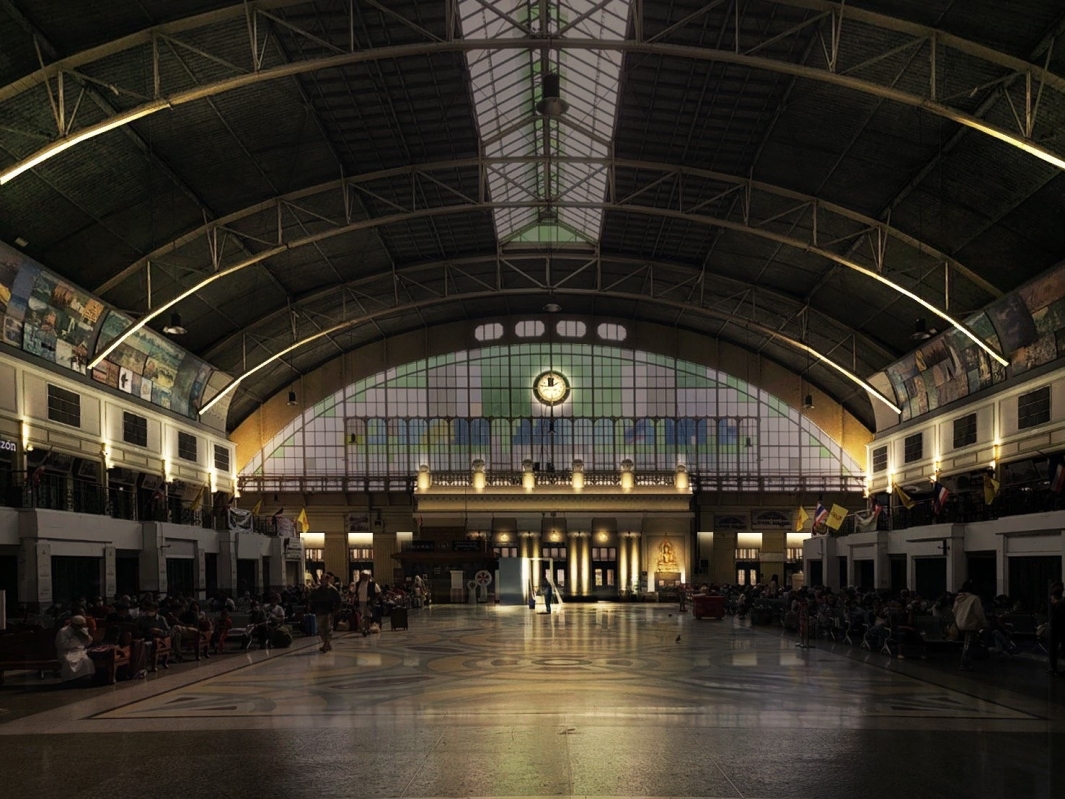 - Third Scene: The Emotion
The platform, a place for greeting and farewell, is where the lighting is designed to evoke the emotions of meeting and parting felt by the passengers on a steam engine train that has journeyed through time since World War 2.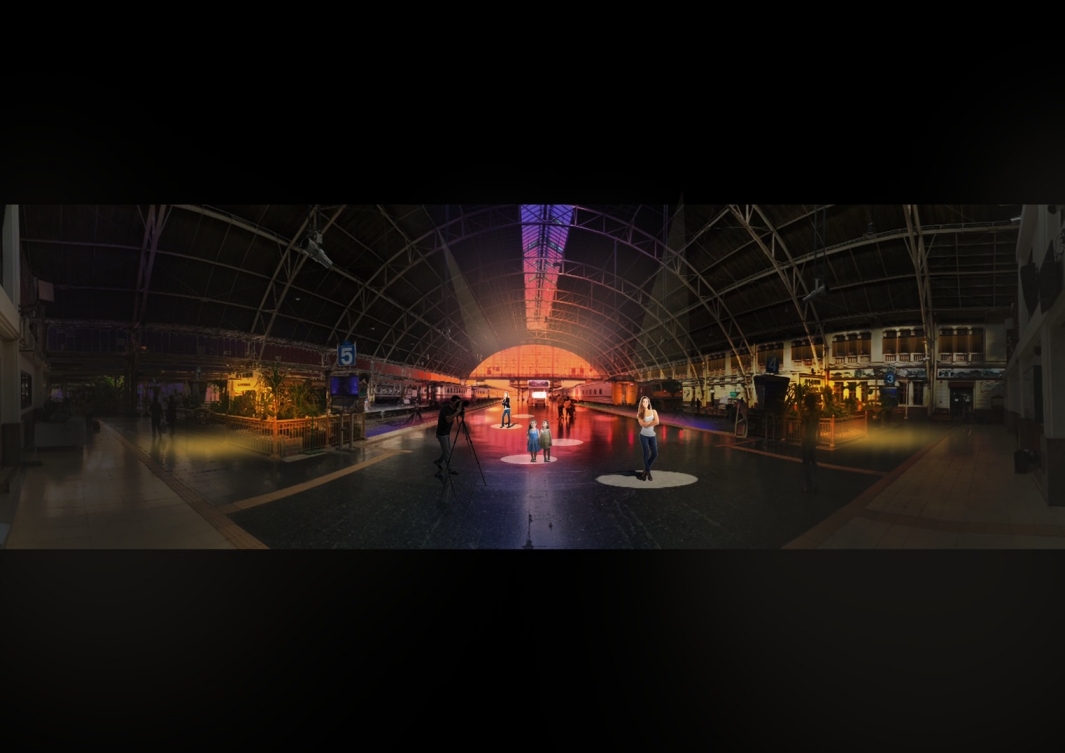 2. Music: entertainment for travelers
Luk thung, luk krung, mo lam, rock, hip hop, and jazz are people's traveling companions. So, in keeping with the unique features of the Hua Lamphong station, the lineup of bands playing is centered on the idea of diversity. The performances take place from 4.00 - 10.00 pm on 18 - 19 March and 24 - 26 March.
Date
On Stage
Duration (hrs.)
Band

Sat 18 Mar

17.00 - 18.00

19.00 - 20.10

20.20 - 20.40

21.00 - 22.00

1.00

1.10

0.20

1.00

ศิลปินพื้นบ้านล่องน่านร่วมสมัย I Contemporary Folk Artist Long Nan

Makaohang: หมาเก้าหาง

Flower.far

ทรงคือ RIDDIM I Songkhue RIDDIM

Sun 19 Mar

17.00 - 18.00

18.00 - 19.45

20.00 - 21.00

1.00

1.45

1.00

Pro Musica

สถาบันดนตรีกัลยาณิวัฒนา I Princess Galyani Vadhana Institute of Music 

Foxy

Fri 24 Mar

18.00 - 19.00

19.00 - 21.00

21.00 - 22.00

1.00

2.00

1.00

Duriyasith Srabua & Friends

วงสุนทราภรณ์ I Suntaraporn

Southern Boys

Sat 25 Mar

18.00 - 19.00

19.00 - 20.00

20.00 - 22.00
 

1.00

1.00

2.00
 

รองแง็งสวนกวี I Ronggeng Suan Kawee 

E-san Fusion

"Swing Dance at Hua Lamphong Railway Station" by The Stumbling Swingout & Jelly Roll Dance Club

Sun 26 Mar

16.00 - 18.00

18.00 - 19.00

19.00 - 20.00

20.00 - 21.00

2.00

1.00

1.00

1.00

บางกอกระบำสุ่ม: Bangkok Random Dance

วงสะบัด (โครงการพัฒนาเพลงลูกทุ่ง) I Sabad (Luk Thung Music Development Project) 

Dr. Pathorn's Kitasewi

HED

3. Special Activities
A lot of special activities are packed in this event, such as a special train showcase, model train exhibition, tour, special menus, Pop-Up Cafe and more.
More information at 
Facebook: Creative Economy Agency 
4. Former Residence of Prince Sawasdiprawat
25 March - 2 April 2023
The "Former Residence of Prince Sawasdiprawat (Sommot Amornbhand)" is located in Soi Samran Rat's tiny alley. The former palace of His Royal Highness Prince Sawasdiprawat; a son of King Rama IV, King Rama V's personal secretary, and the first of the "Swasdikul Na Ayudhya" family; is located in the Prince Sommot Amornbhand Community. While the façade of the residence remains beautiful despite being vacant, the inhabitants in the surrounding area continue their daily lives. Most of them make yellow robes for monks and sell items needed in Buddhist monasteries.
The "Former Residence of Prince Sawasdiprawat (Sommot Amornbhand)" is a hidden historical building due to its remote location. It is thus a good opportunity for Urban Ally and Silpakorn University's Faculty of Architecture to bring this place out into the open for the public to enjoy its beauty, learn about the historical facts, and get to know the surrounding community, which used to be one of Bangkok's largest markets for Buddhist products before the Giant Swing area took the title.
More information at
Facebook: Creative Economy Agency / Urban Ally
About UNFOLDING BANGKOK