CEA OUTLOOK : Keep Up with the Creative Economy Future Trends ( January - June 2021)
The visual arts industry is one of the 15 creative industries in Thailand that has potential with continuously expanding economic value from 18 billion baht in 2014 to 23 billion baht in 2018. Despite the severe pandemic of COVID-19 that causes the recession, however, the ever evolving power of creativity has allowed us to witness new inventions in the visual arts industry, such as accessing visual arts through virtual technology and digitizing objects for trading on the NFT market.
Creative Economy Agency (Public Organization) or CEA, as the agency designated to promote Thailand's creative economy, wishes to create awareness,comprehension, and sustainable solutions for the creative economy. As a result, it has researched the creative economy by category, which covers the overall context, stakeholders, business model as well as operational problems to collect and present as a plan for the development of each branch of creative industries as a guideline for the development of Thailand's creative industries and the enhancement of Thailand's competitiveness.
This CEA Outlook vol. 5 illustrates the analytical results and worth-mentioning issues from the report of strategic plans for visual arts industry development, along with the relevant references. The results are presented by covering diverse topics context of visual arts, statistical data, entrepreneurs' potential and competence analysis, major trends in the visual arts industry, the successful international cases, as well as examples of the visual arts industry abroad as the guidelines to be applied in Thailand's creative industry. The study, therefore, helps formulate a strategic plan to be in line with the country's policy which will lead us to the sustainability of the nation's visual arts industry development.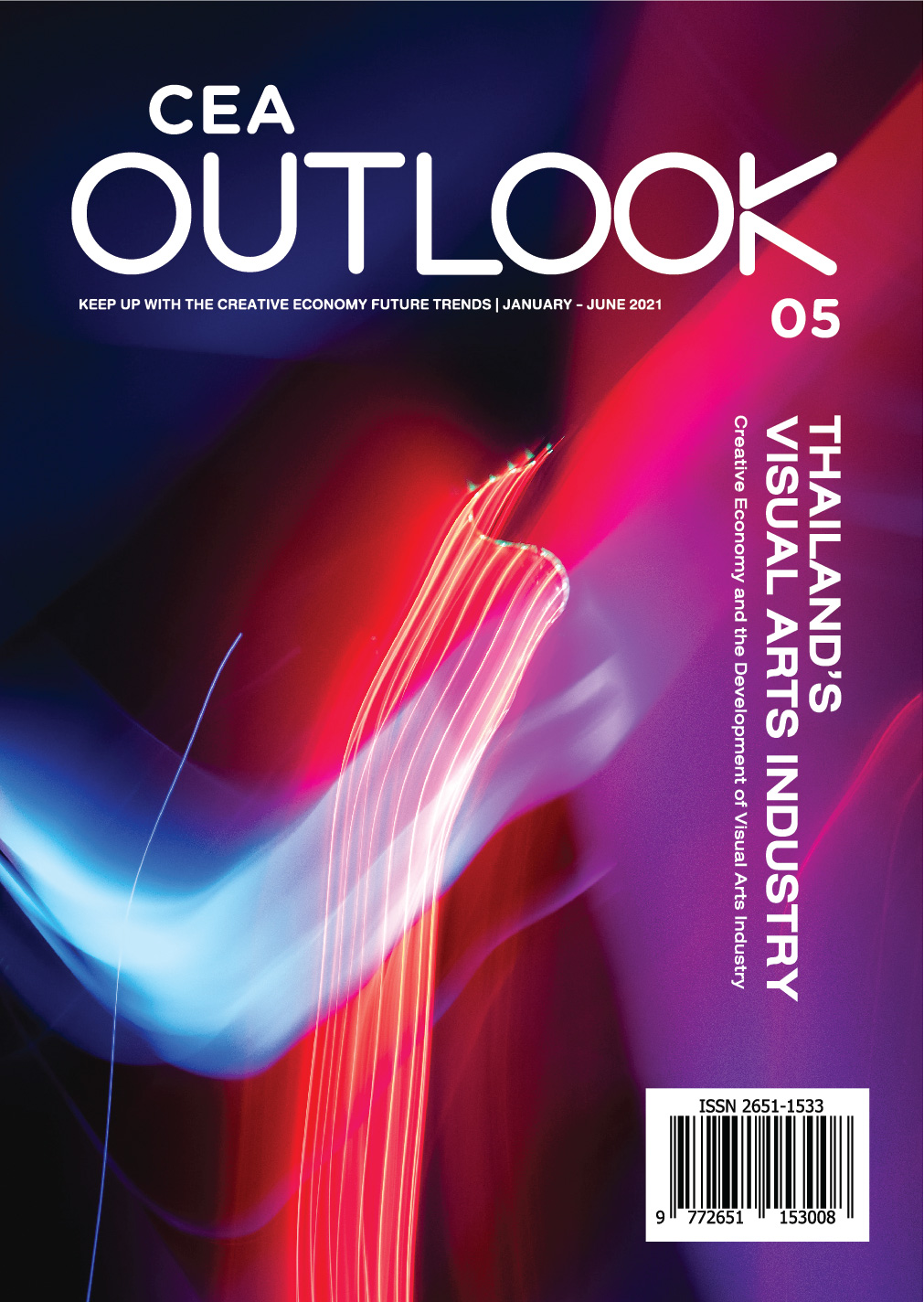 CEA OUTLOOK Keep Up with the Creative Economy Future Trends (January - June 2021)
CEA OUTLOOK จับกระแสอนาคตเศรษฐกิจสร้างสรรค์ (มกราคม – มิถุนายน 2564)